There are number of methods and systems for ensuring product and material quality. We specialise in working with our customers from many industries to determine precisely how non-contact and imaging inspection can provide added value. In this process we not only consider what our existing systems can do, we also study how we can contribute to customer requirements, using our know-how. Our experience shows that the best solutions are developed in dialogue with our customers.
Contact us.
Below we offer a number of application examples as an overview of our inspection solutions. Take a look, and find out in a personal discussion how these processes can be used to fulfil your requirements.
The X-ray tube and X-ray generator combine together to form the team which creates the radiation.
At IMS the X-ray generator and the X-ray tube are carefully matched to each other.
For example, if you are looking for an X-ray generator to replace an existing device, please contact us to discuss your requirements.
This is where all the information comes together and is processed, and corrections and countermeasures (where necessary) are organised.
It is always a challenge to transfer the skills of reliably recognising deviations, defects, or damage into an inspection system. For this, IMS uses its own developments which are tailored to requirements in collaboration with universities, institutes of higher education, and our own customers. As the provider and developer of all core components, IMS offers you systems from a single provider, completely tailored to your needs, and always with a sustained focus on:


Reliability
Availability
Upgradability
Compatibility with your software solutions and protocols
Many applications are possible; here are some examples:
Food products: foreign objects in raw or packaged food products
Consumables: determining the quality of fine-cut tobacco
Production resources: defect detection in chocolate confectionery moulds
Industrial products: completeness inspections for assortment boxes or PCBs
Incoming goods testing: random sampling of weld seams or iron castings


And there are many others. Please contact us. It would be a pleasure to discuss your requirements.
Safety is the top priority when working with X-ray radiation. IMS is committed to all occupational health and safety aspects in every area, whether manufacturing or later for operational X-ray systems. Safe shielding and shut-down measures protect operators and maintenance personnel from the generated X-ray radiation.
An X-ray tube generates the radiation necessary to illuminate the object to be inspected.
The intensity of the radiation required varies, depending on density and material thickness. IMS provides X-ray systems that fulfil the respective requirements. Contact us. We would be pleased to work together with you to determine the X-ray system that is right for you.
This is where the X-ray image is created; resolution and scan speed can be selected appropriate for the respective requirement. We will be happy to help you with the evaluation. Contact us. It is our pleasure to advise you.
A conveyor is the most widely used option for implementation of inline or online testing and inspection of products and tools. Conveyors can also be flexibly adapted to meet virtually all requirements, for instance:
They can be disinfected
Width and length
Load capacity
Resistance to chemicals


And there are many others. Please contact us. It would be a pleasure to discuss your requirements.
Various solutions are possible.
A standalone solution without connection
Or else with an Ethernet connection


Inline, atline, and online solutions, in particular, make it possible to record and process important quality information very quickly. Corrective work is implemented earlier, and scrap is avoided.
The X-ray inspection system can also be monitored via remote diagnosis. Corrections can be made and software can be updated without the physical presence of a service technician.
Inside or outside of your production, IMS systems provide solutions for your inspection tasks.
There are diverse application areas for our inspection systems.
We can provide the right system for how your production lines are configured, and for the points where your products can be measured effectively. The first questions include:
What should be inspected?
At what speed should inspections be performed?
At what intervals should inspections be performed?
However, after a 360° consideration of the technical and financial aspects, to achieve holistic and sustainable solutions, attention must also be paid to the ecological requirements. Contact us and explain to us how you currently ensure your quality. We will show you ways that our systems will optimise your processes and product quality.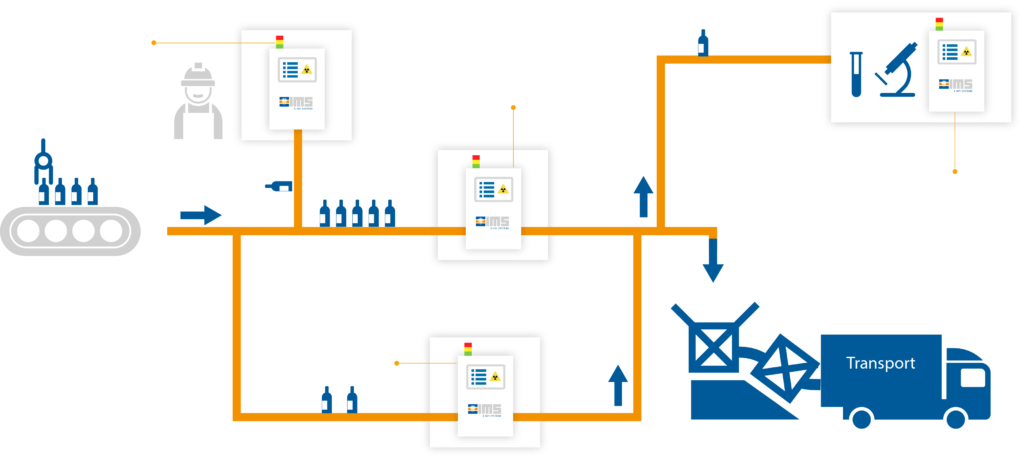 Sampling inspections next to the production line
Do you want a detailed view into the interior of your products? And yet at the same time ensure that your production keeps running at full output?
IMS atline systems are precisely the right solution for you.
Continuous 100% inspection in the production line
Is completely automated monitoring important for you? Are detection, evaluation and 100% quality assurance among your top priorities?
IMS inline systems provide this for you.
Sampling inspections parallel to the production line
Does your manufacturing have an extremely high output and do you want conclusive monitoring of random inspections? Do you desire initial experience with X-ray technology on a smaller scale?
IMS online systems are reasonably priced, reliable and they will give you an effective introduction to X-ray technology.
Inspection of random samples of varied composition, shape and with different approaches
In your factory laboratory do you have a variety of testing and measuring tasks, some involving special methods? Do you need flexible solutions that go beyond the recurring processes?
IMS offline systems can do all this and more.
Holger Sauerzapf,
Sales & Product Manager
Request a personal consultation appointment now
Simply use our Contact Form to request a consultation appointment. Provide some information about your subject of interest, and we will get back to you as quickly as possible.
We look forward to your enquiry!